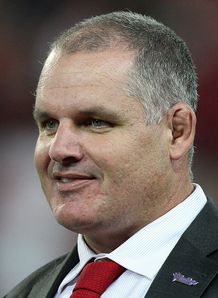 Related links
Teams
The Reds are hoping their desire to send off outgoing boss Ewen McKenzie on a high will aid them in their Super Rugby play-off against the Crusaders on Saturday.
Director of coaching McKenzie announced earlier in the season the that he would be leaving the Reds at the end of the current campaign to further his international prospects, and he was last week handed the reins of the Wallabies.
In 2011, McKenzie guided the Reds to their first title since they claimed the Super 10 honours in 1995, and has helped them become one of the most exciting teams in Super Rugby.
On Saturday the men from Queensland will come up against the imposing obstacle of the Crusaders, whom they haven't beaten in Christchurch since 1999.
Despite the poor record that the Reds have in Canterbury, coach Richard Graham, who will take over full time from McKenzie after the play-offs, believes his side can beat the odds and claim a victory.
"They have a fantastic record at home but certainly the Reds' record over the last four years have been very good against them, probably the best of anyone in the competition," said Graham.
"Records are meant to be broken. If we look back at history we have beaten them in the final, we have beaten them three times I think prior to that, and the boys know how to go to New Zealand and win," he added.
The players will not be short of motivation in a game of such importance, but prop James Slipper admits that McKenzie's departure will be on their minds.
"It's a huge focus," said Slipper. "Without a doubt we wouldn't be where we are now unless Link (McKenzie) came in. To repay him with a final and hopefully a championship would be something remarkable and something we are striving for."
"That (sending out McKenzie a winner) is a big stepping point that we can use. We love playing for him," added flanker Liam Gill.