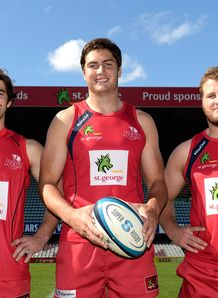 Related links
Teams
The Reds have locked away three key members of their future with James Slipper, Liam Gill and Rob Simmons signing until at least the end of 2015.
The trio have all inked new two-year deals where they will play an integral role in the continued success of Queensland Rugby and for Australia in the lead-up to the Rugby World Cup in 2015.
As a group, the three young Reds forwards boast a combined 154 caps for Queensland, along with 73 for Australia, and have been influential in the team's recent success where they have qualified for a third straight Super Rugby Finals Series.
"James, Liam and Rob are not only very talented players but also great individuals that are passionate about Queensland and what we want to achieve here," said coach Richard Graham.
"To secure their services for a further two seasons is significant for our Rugby program and they'll have major roles to play as we move forward together as a group.
"They're all leaders in their own right with James having captained the Reds, Liam having captained the Australian Under 20s and Rob being given ownership of running our lineout in Queensland.
"I congratulate all three on their decision to remain in Queensland and wish them all the best for the next stage of their careers."