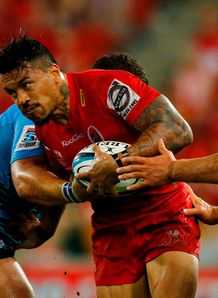 Related links
Teams
The Reds have denied speculation that Wallabies wing Digby Ioane is planning to quit the Brisbane-based franchise at the end of the season.
Reds boss Ewen McKenzie and captain James Horwill both disputed a News Ltd report on Monday which states that Ioane was in a dispute with the Queensland Rugby Union administration.
The newspaper report claimed that Ioane and several other players, including Horwill, are unhappy over a third-party payment and the 34-Test flyer is now looking to break his lucrative three-year contract.
But Horwill denied he was in dispute with the Reds over contractual issues and would be surprised if Ioane wanted to leave.
"That's completely untrue from my end," Horwill told AAP. "I'd find it very difficult to play for another team other than the Reds, in Australia.
"I know Digby and, talking to him throughout the year, he loves playing for the Reds and loves playing for Australia but in the end everyone has their own situation and must weigh up how they feel."
McKenzie said he was unaware Ioane had any problems and felt the report was typical of the player negotiation game.
"I'm not too stressed about it. Digby is out there playing good rugby for us so I'm happy about that," he said.
"There's some journalists out there who like writing speculative pieces without much substance so I will give it that much credence. You can't respond to everything written in the paper otherwise you would be very busy."