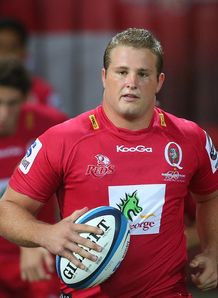 Related links
Teams
Reds skipper James Slipper believes his side can still improve after their 23-13 win over the Rebels in Melbourne on Friday.
The Brisbane-based franchise trailed 13-10 at half-time but a strong second half showing secured them the win and they are yet to lose in five encounters against the Rebels.
"We still haven't put in an 80-minute performance this year and we'll be disappointed with that," said Slipper.
"In patches we played well, but overall we just kept the Rebels in the game.
"But you can't take anything away from the character of the team, defence sets the tone of the match and the way we scrambled in defence on our own line is second to none."
The result means the Reds have claimed their third straight victory, after their loss to the Brumbies in their opener last month.
Reds boss Ewen McKenzie said he was pleased to be winning while the Reds continued to build into the season.
"We tried to play a lot of rugby tonight and we played with a bit better discipline, but in the end we continued to be penalised in attack and in defence" he explained.
"That made it very hard to keep the pressure on and the Rebels don't go away.
"We are building slowly, not setting the world on fire but we aren't running last either, so we'll just keep at it.
"We continue to find other players to step up in the absence of some of our experienced players and tonight I thought guys like Nick Frisby, who was playing in his first start, went really well.
"We've had six or seven players injured from our Grand Final side so we've had to give other guys a go.
"You've got to have that depth and have guys coming through. That allows you to manage your playing stocks with injuries and you can always go to someone else.
"But, our experienced guys will come back and that will give us a boost."
Rebels hooker Ged Robinson believes that his side has improved despite losing their last three games.
"We talked a lot this week about our second half performance and we talked about playing minute by minute and playing to our game plan... we did it better, but hey, we lost again," he said.
"We only had about 30 percent possession in the first half and we're talked that if we can just get 50-50 possession we're in the game and we can win and it's something we need to work on."
The Reds have another Australian derby next week against the Western Force at home, while the Rebels have a bye.