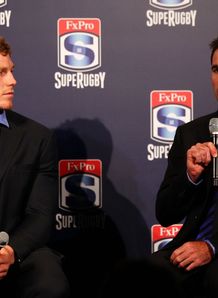 Related links
Teams
New Reds coach Richard Graham has officially started his tenure at the Brisbane outfit and is happy in his new surroundings.
Graham defected from the Western Force to join forces with Ewen McKenzie for the 2013 season under a European-model coaching structure where McKenzie now holds the director of coaching role.
McKenzie, who guided the Reds to the Super Rugby title in 2011, is viewed as the heir-apparent to under-pressure Wallabies coach Robbie Deans.
Graham will not guess when McKenzie might take over the reins from Deans but he praised the Reds hierarchy for their forward-thinking if such a move does happen.
"Queensland are in a really fortunate position where they have been able to transition when they choose to transition," he told AAP.
"When Ewen leaves or steps aside from the organisation I will stand here and be in charge of the rugby program going forward.
"The clarity surrounding that is very, very clear."
The Reds will retain the structure that they have had for the past three years with McKenzie at the helm, assistant Jim McKay heading the attack and Graham replacing Matt Taylor as defence coach.
Graham, who was Australia's skills coach just two years ago, is unperturbed that his role is viewed as a backward step and is happy to wait his turn to take over and to learn from McKenzie in the meantime.
"Two of the staff have obviously been consistent with their roles and at this point in time you would be foolish to tamper or change with that," he said.
"They've been successful for a reason and if you don't need to make change then why do it.
"Behind closed doors I'll be challenging guys with ideas from my own experiences and philosophies on the game."