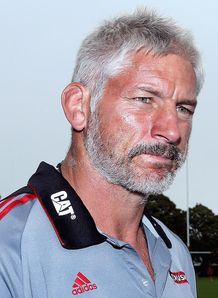 Related links
Teams
Crusaders coach Todd Blackadder and centre Ryan Crotty have admitted their surprise at the Waratahs switch of stadiums for the final.
Rather than playing the fixture at the regular ground of Allianz Stadium, with a capacity of 44,000, the Waratahs have elected to switch the fixture to the Olympic Stadium elsewhere in Sydney which holds 83,500.
Despite the no doubt increased support for the 'Tahs in a bigger venue, Blackadder underlined that if it was the other way round and the Crusaders had the option to play away from AMI, it would never happen.
''There is no way I would ever give-up home advantage to anyone,'' Blackadder told The Press.
''This could only be the accountants and not so much the players [making the decision]. I don't think it will make a difference to them, no-one is going to be hamstrung by it.
''But for us it is just the psychological aspect of going to a neutral stadium is just fantastic.
''I'm pleased we are playing there and not the other stadium where they have had so much success,'' he added.
''It almost feels like it is a neutral venue for us."
All Blacks centre Crotty was in agreement, describing the decision as a 'wee bit weird.'
''Yeah it's a wee bit weird. I know we wouldn't be taking ours away from AMI. That's interesting, it doesn't change [things] for us," added Crotty.
"We still have a job to do when we get over there.''