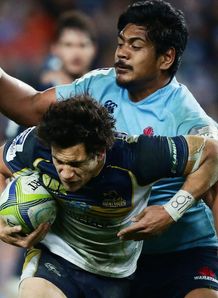 Related links
Teams
Also see
His incredible carry settled Saturday's semi-final win over the Brumbies, but Waratahs lock Will Skelton's focus after was elsewhere.
Skelton was penalised for a clumsy tackle on Brumbies scrum-half Nic White that might have cost his side had the visitors been able to break through the defence.
Admitting that his height was no excuse, the two-metre tall second row underlined that he would be working on his tackling technique.
''I've just got to get lower, full stop. I'm pretty tall but I can't use that as an excuse. You don't want to cost the team," Skelton told AAP.
"I'll try my best to work on that this week."
Skelton downplayed his input for what was a sensational try for the Waratahs by Bernard Foley.
'I was lucky enough to get the pass away," added Folau.
''I'm surprised, I don't usually make breaks. The forwards try and work hard and just get through contact. I'll have to look at the highlights and see how I went."
Skelton is expected to be used off the bench against the Crusaders as has been the norm over recent weeks.
In other news his younger brother Cameron, 19, has reportedly signed to play for the Chiefs.