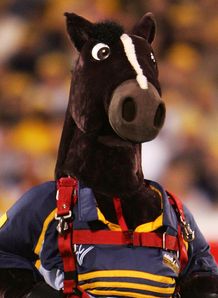 Related links
Teams
The Brumbies won't have their mascot orchestrating their fans on Saturday after the 'Tahs banned Brumby Jack from the Allianz Stadium sideline.
Recently the Rebels invited the Canberra favourite on to their Melbourne field alongside their own mascot to help gee up the crowd during a match.
However it appears the Waratahs, who have sold close to 35,000 tickets for the Super Rugby semi-final, don't want Brumby Jack alongside 'Tah Man.
"This is all a bit of horseplay," 'Tahs CEO Jason Allen explained to the Sydney Morning Herald.
"The stadium by-laws prohibit animals, and that includes horses.
"The answer to all requests for free tickets for this match has been neigh. Brumby Jack can buy a ticket like everyone else."