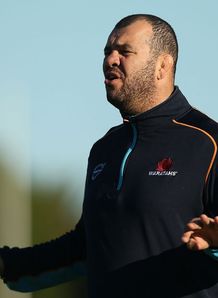 Related links
Teams
Waratahs boss Michael Cheika and captain Michael Hooper have admitted that while finishing first is good, the real work starts now.
Sunday's 44-16 thrashing of the Highlanders confirmed top spot for the side from Sydney, who produced what is fast becoming a trademark performance of speed and power.
Speaking afterwards, Cheika was conscious that now the 'Tahs are sat in the 'box seats' for the playoffs, the price of failure is higher.
"Finishing first is obviously important... but most of those box seats have an eject button," said Cheika.
"And if you're not ready for what's to come in the finals you'll get ejected straight out."
Wallabies skipper Hooper added that the squad weren't even aware that they could finish in first place until Sunday.
"We said before the game we wanted it to be hard to choose a man of the match," said Hooper.
"And there were guys putting their hands up at this end of the season which is vital.
"Everyone needs to be doing their job well and we did that tonight, six tries to one.
"We just woke up this morning and found that out [we could finish first]. It's always been a week-to-week proposition for us this year.
"It's been such a tough competition. The Reds will be solid next week and we just have to keep momentum going into the finals."