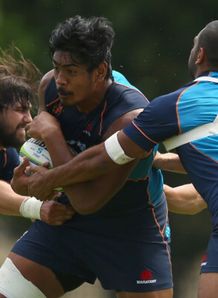 Related links
Teams
Hulking 21-year-old Waratahs second-row Will Skelton has his sights trained on a starting berth in this year's Super Rugby campaign.
Though facing competition from the likes of Kane Douglas and Jacques Potgieter, the youngster backs his ability to perform.
''I have to back my own strengths and abilities, I don't want to change for anyone,'' Skelton told the Sydney Morning Herald.
''That's one thing [coach Michael Cheika] is harping on all the time, if you are good at something, stick with it and build on it.
''I like carrying [the ball] and he tells me before the game, 'Don't do any offloads, just run straight and build on that throughout the game'.'
''I look up to Dougie, he was around my age when he made his debut ... and [Potgieter] has just been with us two weeks but he's brought a new vibe and a new energy that we needed,
''I'm happy that Cheik's signed him - I know with a lot of new players it can be daunting [for current players] when you have someone new in your position but it's healthy competition, we all push each other along.
''It's a notch up from last year, I'll tell you that.
"I love being physical and with guys like Dougie and [Potgieter] turning up every week, I love it.
''We're trying to dominate as forwards, our main focus is to intimidate the opposition and be dominant in the contest.''
''He's definitely going to play a lot of football for us this year, it's a matter of how I decide to use him early on,'' said Cheika of Skelton.
''But I want him to learn to play 80 minutes, he's a big man and I don't want him to have that, 'I'll play for 50 minutes' [mindset], I want him to play the 80.''