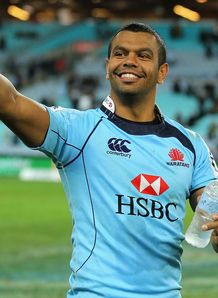 Related links
Teams
Kurtley Beale is enjoying life back with the Waratahs after a difficult year on and off the field in 2013.
Beale's form deserted him during the Super Rugby season with the Melbourne Rebels, before an off-field incident involving alcohol on tour in South Africa saw him spend two weeks in a rehabilitation centre.
Now back in Sydney where his career began, Beale is currently from a shoulder reconstruction and insists that lessons have been learned.
"I'm lucky the position I'm in now and I'm excited," said Beale.
"I've learnt from the things I've done in the past. I'd rather get them out of the way now than down the track when I guess it would be too late.
"Without going through those experiences I wouldn't be able to find out what I need to improve on.
"Coming back to the 'Tahs, it's an awesome bunch of blokes... they show a lot of care and I'm grateful for the support.
"Everyone goes through life and you've got to tweak a few things here and there and I'm no different. I'm going to stick to what I know best.
"I'm very thankful I've got through it now and I'm feeling very confident that with the support around me I'm able to go out there and live my life."
Waratahs coach Michael Chieka underlined that he would not be there to guide Beale every step of the way.
"To be honest, I'm worried about my own headspace let alone (worrying about) others," said Cheika.
"I'm not going to muck around with that stuff, he's a man. He can make his decisions. Take responsibilities like everyone else and get on with it."