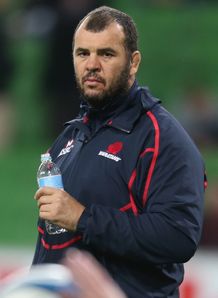 Related links
Teams
Waratahs coach Michael Cheika was fuming after his side suffered a 23-22 defeat to the Crusaders in Christchurch on Friday.
Cheika was so angry that he immediately tried to phone SANZAR referees boss Lyndon Bray to complain about the game's officiating.
The Sydneysiders' boss was already annoyed that Bray did not get back to him to answer queries after the Waratahs' loss to the Rebels last weekend.
"[Bray] assured he would report back to me by Tuesday," Cheika revealed.
"He never did. I rang him straight after the game here to ask him if he wanted the second of that [the Crusaders match].
"I think everyone can make their own assessment. You don't have to be a rocket scientist to work it out."
Cheika was unhappy with several rulings made by referee Glen Jackson and his assistants in Christchurch.
He was particularly angry with the length of time it took before the Crusaders were penalised after several scrums were re-set in the closing stages of the match.
The Waratahs were eventually awarded a penalty but inside centre Berrick Barnes failed with his goal-kick which was the final act of the match.
"I don't want to be whinger but what can you do? I don't know, maybe the Waratahs aren't supposed to win here," added Cheika.
"Maybe that's the rules."
Cheika said he did not bother to talk to Jackson about some of his decision after the match.
"No way, why? I am going to get in trouble," he added.
"Because when you tell the truth in this game you get in trouble. That is the problem. That is not healthy."
When asked if he would criticise the referees in a similar way to which former All Blacks coach Graham Henry did in Auckland last week, Cheika said: "No. Graham Henry is a much better coach than I.
"He has so many runs on the board, he can get away with it, you know what I mean?
"I have got no credibility; I am just a newbie here. I have got nothing but I have got a team that is prepared to put everything out on the paddock.
"And if we are a soft target because maybe people are not used to us being winners, then we will have to change that by coming back harder every time."
Henry, who is part of the Blues' coaching staff now, was forced to apologise recently after he made derogatory comments about the officials during the Auckland-based frachise's loss to the Crusaders in Round 14.