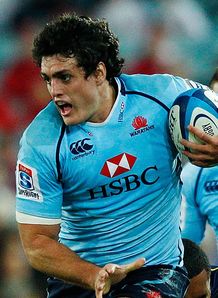 Related links
Teams
Waratahs coach Michael Cheika has appointed Wallabies flanker Dave Dennis to lead the team during the Super Rugby season.
Dennis, 27, said he was "extremely honoured and proud to be asked."
"I was born and bred in NSW and I'm a proud New South Welshman. Being asked to lead such a good group of boys means a lot to me," he said.
"I'm a bit surprised but extremely proud."
Dennis made his Waratahs' debut as a 21-year-old against the Crusaders in 2007 and has since pulled on the sky blue jersey on 47 occasions.
He made his Wallabies debut last year against Scotland and now has 15 Test caps to his name.
Having long deliberated on the decision, Cheika said he was confident he had made the right one.
"I've been considering it for quite a while," he said
"Leadership here is a very important factor so I wanted to take my time and see who I thought would be the best person to embody the values that we are holding ourselves accountable for on a day to day basis.
"The way the team reacted to the announcement, I think I've made the right decision.
"I guy like Dave from western Sydney, he's come through Sydney club rugby and earned his stripes. He's perhaps not the flashiest but he's earned the right to captain his state. He's a guy that everyone can relate to."