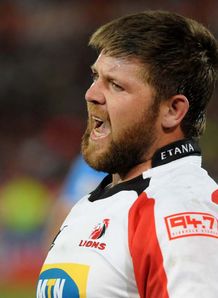 Related links
Teams
Also see
Lions captain JC Janse van Rensburg stated that his team are looking forward to playing in front of a passionate Ellis Park crowd.
The Lions sealed a first-leg victory in Port Elizabeth with a 26-19 victory over the Southern Kings on Friday, handing them the momentum ahead of next weekend.
Janse van Rensburg admitted that his side made too many mistakes in the opening 40 minutes, but was delighted by the spirit they showed throughout.
"It was definitely a tough, physical game and we made a lot of mistakes in the first half, but hats off to our team for the guts they showed tonight (Friday)," said Janse van Rensburg.
"We worked hard to attack their defence because we knew it was very good and in the second half it went well.
"We showed a lot of character and we fought for each other.
"Now we are looking forward to Ellis Park, which suits our game, and we will have 40,000 fans behind us this time."
Kings skipper Darron Nell took some solace from the losing bonus point, but conceded that his side needed to work harder at retaining possession and working on their set phases.
"That bonus point was the at least something and now we know what we have to do - win by more than seven points - and we must plan accordingly," said Nell.
"The Lions did very well, they kept the ball better than we did and we didn't get our set phases right to get into the game. So that is something we need to get work on and get right for next week.
"I think we can just look at where we went wrong and work on those things, and that should help our game massively. I thought the guys played well at stages but there were times, on attack, when we weren't great."