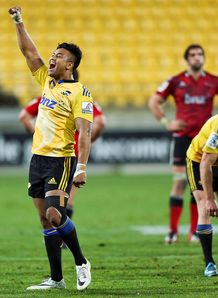 Related links
Teams
Scottish coach Clark Laidlaw has spoken of the difficulties involved in turning the team's gung-ho attack into watertight defence.
The Hurricanes are renowned for their prowess and danger with the ball, and a backline boss Mark Hammett famously said would rival any in Test - let alone Super - rugby.
With Julian Savea, Beauden Barrett, Conrad Smith and Cory Jane in the ranks, it's no surprise the 'Canes score tries. But defence has long been their Achilles heel, with this weekend's 16-9 victory over the Crusaders the first time in three years they have kept an opponent try-less.
And Laidlaw believes it's all about mentality, matching the team's love of running rugby with their zeal without the pill.
"We were all aware the Hurricanes loved to attack, so we had to find away to enthuse the players around wanting to defend," Laidlaw told stuff.co.nz.
"We've had a [player] group that works together each week around [defensive] strategy. But also it's that we get excited about defending.
"We don't want to be a team that just defends, but doesn't get the ball back. You will see in our defence it's built on trying to get the ball back so we can attack again.
"It's not just trying to stop the opposition ... the players have been working together to get that mindset and attitude to defence.
"That it's not just soaking pressure up, it's getting the ball back so we can use our strengths, which has obviously been our attack."
Laidlaw's influence since arriving in Wellington this season is reflected in the statistics, where the Hurricanes have conceded fewer points and given away less penalties than in their past three years under Hammett.
The Scot was especially pleased with the way the side kept their discipline against their New Zealand Conference rivals.
"It was 11-9 for long periods of that second half, but apart from two penalties where the Crusaders took a quick tap and a scrum, we didn't give away those three points," Laidlaw added.
"That's the sort of the things we're working on ... There aren't a lot of penalties there at the moment."