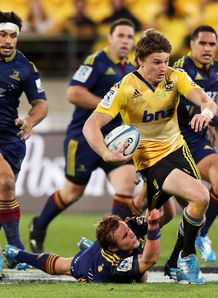 Related links
Teams
With star fly-half Beauden Barrett sidelined by a hip injury, the Hurricanes are considering their options moving forward at number ten.
Barrett's knock prevented him from kicking at goal in the loss to the Highlanders, with Andre Taylor taking over the duties and missing subsequent attempts.
Options to come in at fly-half include Marty Banks, James Marshall and centre Tim Bateman, with Hurricanes backs coach Alama Ieremia preparing for the news that Barrett may not recover in time to face the Chiefs.
"That's the issue we have to face this week," Ieremia told The Dominion Post.
"We have two specialist first five-eighth's in Marty Banks and James Marshall, but its about asking, do we go with somebody who has played there before and is game hardened in [Tim Bateman]?
"Those discussions we will debate later on today. There are pros and cons both ways.
"It was disappointing with Beaudy's injury early in that game. We pretty much struggled throughout.
"Credit to him for gutsing it out, but it did alter our shape and some of our decision making. Those sort of things you learn on the run, hopefully we have him again this week."