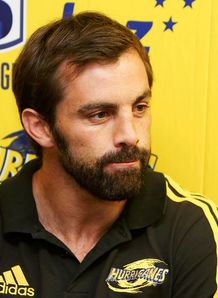 Related links
Teams
Also see
Hurricanes centre Conrad Smith is happy with the new 18-team Super Rugby format put forward by the ARU this week.
Having seen the brief, Smith supports the move to cut down on the amount of travel time for players through a new four-conference system.
"Through the Players' Association I had a brief look and talk about it and it was probably one of the better [options] that was proposed," Smith told Fairfax News.
"I think they're aware of the players' worries about travel and too many games and I think it cuts back on a lot of that.
"I haven't seen the final format and playoff series, but I don't think it's too bad. My initial impressions were it was quite good."
Including teams from Argentina and Asia is another factor that Smith believes will help grow the sport.
"There's a global picture we're trying to fit into it all," added Smith.
"It's hard, there's a lot of competing views and needs of the players. Some of us want to play in Africa and when you're 32 you don't mind so much missing out on that trip.
"I think it is good for the competition, in the condensed format - who knows, this might strike the right balance."
One other result of the new format would be a reduction in the number of derbies. Smith admits that given the physicality of those clashes, playing fewer might be better for players' welfare.
"Again, you ask one guy and they love the derbies. I don't mind the derbies but they are pretty brutal and we probably don't need to play as many," stated Smith.
"Hopefully they're going to work through that and there might not be any right answer, but what they've got to me looks pretty good."