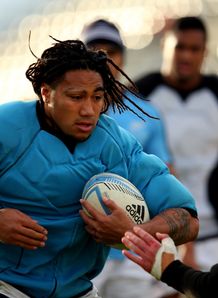 Related links
Teams
Also see
The New Zealand Rugby Union may be forced to put pressure on the Hurricanes in a bid to find a home for All Blacks centre Ma'a Nonu.
That seems to be the logical conclusion after the Blues became the latest franchise to indicate that they are not interested in acquiring the 79-Test veteran services.
The Chiefs have made it clear that they have enough midfielders while Nonuh as indicated to Highlanders coach Jamie Joseph that he is unlikely to play for the Dunedin-based franchise in 2014.
Crusaders backs coach Tabai Matson revealed that his franchise has not even spoken about Nonu, which leaves the Hurricanes as the only option for the midfielder.
The NZRU was reluctant to discuss the issue on Tuesday, but eventually provided a short statement.
"Ma'a isn't off contract until the end of the year and he still has a fair amount of rugby with us this year with Rugby Championship and end of year tour," NZRU rugby operations manager Neil Sorensen told Fairfax Media.
"He is obviously weighing up the options that he has and we continue to talk to him about those as we see him as critical to the continued success of the All Blacks."
Although Nonu will have several offers to further his career overseas, it is important for him to stay in New Zealand to remain eligible for the All Blacks.
His manager Warren Alcock didn't return calls on the subject, but Nonu has previously indicated that he would lke to return to the Hurricanes.
He represented the Wellington-based franchise in 110 matches between 2003 and 2011 before being shown the door by current coach Mark Hammett.
He then played 14 games for the Blues in 2012, before moving to the Highlanders where he featured in nine matches.
Although the NZRU aren't in the business of forcing coaches to pick players, they may feel compelled in Nonu's case to at least try to play a facilitator's role.
Hammett has been diplomatic about a possible move for Nonu. He insisted, two weeks ago, that he is not pursuing a move to bring Nonu back to Wellington but did not rule out the possibilty of it happening.
The Hurricanes boss will be weighing the pros and cons of bringing back a player he let go in part due to his disruptive influence.