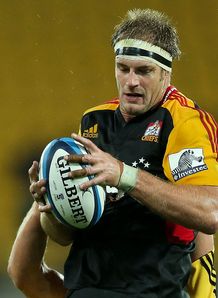 Related links
Teams
Chiefs captain Craig Clarke believes his side's second half effort sealed their 34-22 victory over the Hurricanes in Hamilton on Friday.
The defending champions took a 17-15 lead to half-time and won for the 11th time in as many matches this season after leading at the break.
But despite turning on the style in the second half, Clarke feels his side had to work hard for victory.
"A great performance is probably overdoing it a bit," he said.
"We were a bit rusty in the first half but we showed a bit more accuracy and a bit more ticker in the second.
"We started getting dominance in the scrum in the second half and that was very important for us.
"Our bench boys brought some good energy, especially when they were chasing the game."
The Hurricanes' defeat, their eighth in 14 games, finally snuffed out any hope they may have had of reaching the tournament's knockout stages this season, leaving only the Chiefs and Crusaders as New Zealand play-off contenders.
Conrad Smith, who returned to captain the Hurricanes after playing all three of New Zealand's Tests against France, was typically hard-working for a team which was brave but outclassed.
"I felt like we were in that game," Smith said.
"I know the scoreboard suggests we were a wee way off.
"I thought we played some of the better footy in that first half but they're just a good side.
You know you're playing a good side when you feel like you're in the game and you look up at the scoreboard and you're 10 points down."