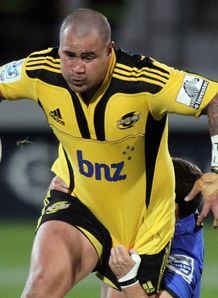 Related links
Teams
John Schwalger is back in New Zealand after two years in France and has immediately slotted in with the Hurricanes.
The 29-year-old prop has spent two seasons with Top 14 outfit Agen but now returns to the union where he started his career. The former All Black played 76 matches for the Hurricanes between 2006 and 2011 and 70 for Wellington from 2005 to 2011.
"Johnny's a great man, a great Hurricanes man," Hurricanes coach Mark Hammett is quoted as telling Fairfax News.
"It was a really hard decision to leave when he did, but a family decision and a life decision I think.
"I've stayed in touch with over the couple of year he's been away and he's always indicated he wanted to get back. He's pretty passionate about this group and he was down today helping us out.
"We're a bit low on props [with Jeffery Toomaga-Allen injured] so he offered to come down and help out.
"You just can't underestimate what an experienced front rower can bring, particularly as he's been at that level in France.
"Just seeing him today fit into our live session . . . that experience you can't buy. You have to go through it and he has."