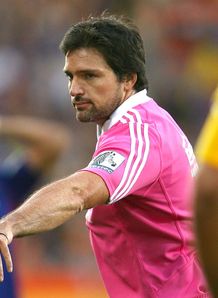 Related links
Teams
Also see
Hurricanes skipper Conrad Smith believes a physical altercation with referee Steve Walsh during his side's loss to the Reds was not as serious as it looked.
Video footage of the incident - which occurred in the 58th minute of the Reds 18-12 win in Brisbane - shows Walsh shoving Smith as he questions the official about a contentious penalty awarded against the Hurricanes while they were on the attack deep inside the Reds' half.
Although the frame from the television coverage shows New Zealand-born Walsh pushing the All Blacks centre away from him, Smith has downplayed the incident - preferring to make a light joke of it.
"I don't know if they'll be citing him or me," he told Fairfax Media.
Smith said he queried Walsh why he had penalised the Hurricanes as they were on the attack close to the Reds' try-line and trying to wipe out the hosts' six-point advantage.
"He apologised for that," Smith revealed.
"I know it probably looked bad.
"He was off charging to give 10 (metres) for the backchat. I was sort of coming up to chat to him, he ran straight into me."
Smith does not have a problem with Walsh's decision to march the Hurricanes ten metres back after one of his players criticised the call.
"That was fair enough," he admitted.
Sanzar referees boss Lyndon Bray saw the incident and defended Walsh.
"In this case we have a referee that's starting to run," he said.
"When you first start to run your head tends to drop ... you then look up and (in this case) he's got Conrad Smith right in his face.
"I think it was pretty obvious they were going to collide so Steve did the natural reaction.
"The other telling point was Steve spoke to Conrad as though they were sitting in a cafe. He apologised (and) said 'sorry mate'."
Bray believes Walsh's response indicated there was no malice in his actions.
"I don't think there was anything other than a pure collision," he said.
"Both of them found themselves in the same place at the same time."