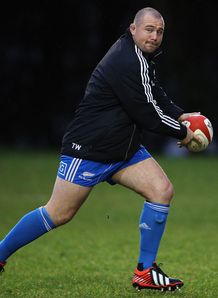 Related links
Teams
All Blacks prop Tony Woodcock has revealed that he has no regrets about the season he spent playing for the Highlanders.
Although his sole season with the Highlanders was not one to remember, Woodcock, who has subsequently returned to Auckland to play for the Blues, said he would do it all over again if he got the chance.
"I really enjoyed it," he told the New Zealand Herald.
"It was something I had to do. If I had my time again, I'd do it again.
"I was attracted to go down there for a lot of reasons - a fresh environment and all that stuff was part of it. The guys down there were unreal ... it was something I had to try out otherwise I would have played all my footy in one place and never moved anywhere."
The Highlanders were amongst the tournament's basement dwellers which will put pressure on their coach, Jamie Joseph, but Woodcock said he had no problems playing under the former All Black loose forward.
"Jamie's a great guy," he added.
"He's a good coach, but it's unfortunate the last season didn't go so well. It was a tough season for results."