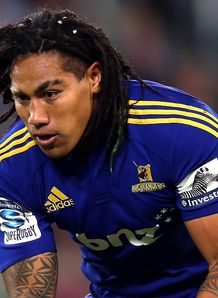 Related links
Teams
NZRU chief Steve Tew says that the union are continuing to work on ensuring Ma'a Nonu has a Super Rugby spot next season.
Nonu is out of contract with the Highlanders and the Blues, Chiefs and Crusaders have all stated they are not interested in his services, while the Hurricanes are considering the matter but are not keen to welcome back the man who left in acrimonious circumstances at the end of the 2011 season.
While his Super Rugby form has been poor, Nonu remains key to the All Black cause and as such the NZRU are desperate to resolve his future. However, Tew says that no further news is available on the matter.
"As I've said on several occasions it frustrates the hell out of people but I can't do anything about it," Tew is quoted as saying by Newstalk ZB.
"This is a private employment matter, so until it's concluded I can't speculate on it, it's not fair on the individual and anyone who's talking to him. We have a number of players we're looking to re-sign and we're working hard on all of them."