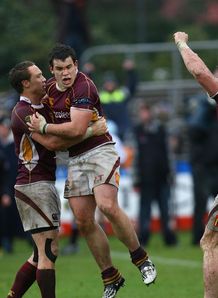 Related links
Teams
Southland flanker John Hardie is relieved that he came through Friday's 47-28 pre-season loss to Otago in Gore unscathed.
Hardie has been out of action with a knee injury sustained while on duty for the Highlanders in a match against Southland during the June Test break and is delighted to be back in action.
"It was pretty tough but it got better as the game went on," Hardie told Fairfax Media after Friday's match.
"I was a bit tentative at the start but I was happy to be back out there running.
"I don't think I've been that nervous for a while, it was like coming back from my toe [injury].
"It was good to get a hit-out but we just made too many little mistakes and that's something we'll have to clear up this week."
Hardie's career has been stalled by several injuries. Last year he had a turf toe injury, an issue with the connective tissue in his foot, which ruled him out of most of the Highlanders' 2012 campaign. The injury resurfaced during a pre-season match against Otago and forced him on to the sideline for the Stags.
His latest injury while a major setback for the Highlanders will, at least, provide a boost for Southland.
"I've had a good eight weeks since I hurt my knee," he said.
"It was actually a good time to get it right, get some rehab and really get the body stretched out.
"I've been doing a lot of stretching to try and get the body back into shape, because it took a fair hiding over the course of the Super 15.
"I only started noticing it over the last few weeks when wee niggly injuries took a bit longer to get over and now I'm in good stead to get into the NPC."
Stags coach David Henderson is delighted to have Hardie back in his squad.
"You can just tell the intensity he brings to the game and his defence," he said.
"That was his first run for seven or eight weeks, so we are looking forward to him getting a few more runs under the belt."