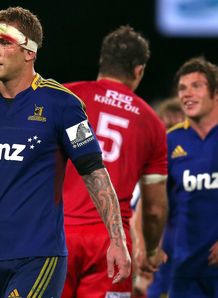 Related links
Teams
Highlanders flanker Jarrad Hoeata has been banned for a week after he pleaded guilty to a charge for receiving three yellow cards this season.
SANZAR judicial officer Jannie Lubbe has accepted the guilty plea from Hoeata for contravening Disciplinary Rule 6.1 of the SANZAR Judicial Rules by receiving a third yellow card in the 2013 Super Rugby tournament.
Hoeata received his third yellow card during the Highlanders' clash with the Crusaders in Dunedin on Saturday.
He has been suspended from all forms of the game up to and including 8 July.
"Having reviewed video footage of the three yellow card incidents and after careful consideration of the submissions made on behalf of the player, the player was offered a one week suspension which was accepted," Lubbe said in his finding.
"The player was represented by Mr Aaron Lloyd who made able and helpful submissions on the question whether any further sanction should be imposed on the player."