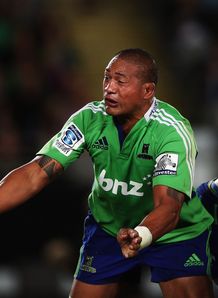 Related links
Teams
Highlanders number eight Mose Tuiali'i wants to build on last weekend's showing against the Blues when his side face the Brumbies in Dunedin on Friday.
The former Crusaders stalwart answered an SOS from Highlanders boss Jamie Joseph last weekend and was one of his new franchise's standout performers in their 29-18 loss to the Blues in Auckland.
The 32-year-old last played two months ago, for his Japanese club Yamaha Jubilo, and admits that it took him a while to get used to the pace of Super Rugby.
"The lungs were burning a bit," he told AAP.
"I was surprised how well I lasted. My main goal was just to get to half-time but my legs took me further than I thought.
"I was just trying to get my hands on the ball and get some go-forward."
The former All Black believes he is a more-rounded player than when he last played in New Zealand.
"I'd like to think I've got a better overview of the game," added Tuiali'i.
"I'm a lot wiser now than I was then and I make sure I do my homework during the week."