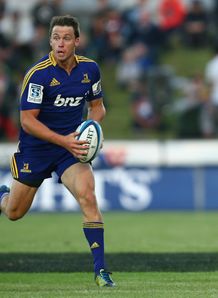 Related links
Teams
Despite being in superb form, Highlanders full-back Ben Smith is playing down his own contribution and just wants his side to claim their first win of the season.
The Highlanders are currently at the bottom of the table, after four successive defeats, but Smith believes they will break their duck soon and he is hopeful it will be against the Reds in Dunedin this weekend.
"We have just got to be ruthless with our finishing and just making sure we are capitalising with the good work we are doing," he told the Otago Daily Times.
"To be honest, I do not think we are too far away. It is just a case of finishing off those breaks.
"We have talked about just finishing off those opportunities you get. You don't get that many opportunities in the games, so you have to make the most of those ones you do get.
"It is just that last pass, just little things that are turning into big things. We just need to knock those on the head."
Smith is pleased with his performances but credits wings Kade Poki - who misses the Reds game through injury - and Hosea Gear for his good form.
"Hosea and Kade have been playing really well, which has been good for me," he said.
"Just working with those two, they are pretty good players.
"They read the play well, which makes my job easier. I've been really enjoying our counter-attack and having a go from the back."
The Highlanders are on a seven match losing streak, which stretches back to last season, but despite their poor results Smith revealed that confidence was still high in the Dunedin-based franchise's camp.
He said the players are aware that they are to blame for their poor results and are determined to change that.
"You are always going to get calls that go against you in a game but it is about what you can control," added Smith.
"As rugby players you just need to worry about what you can do, what we can control.
"When we are out there, we need to be making sure we are making the right calls, giving the guy with the ball a lot of support, a lot of communication and that sort of thing."