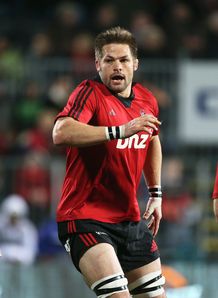 Related links
Teams
Crusaders boss Todd Blackadder claimed Richie McCaw is ready and raring to go ahead of the upcoming Super Rugby season.
McCaw was firing on all cylinders as the Crusaders downed the Hurricanes 40-15 in Lervin, and Blackadder paid tribute to his openside's fitness.
"I thought he [McCaw] had an exceptional 40 [minutes]," said Blackadder.
"So did Matt Todd, but if you look at Richie I thought he played a really smart game.
"He didn't try to do too much, he just worked into the game and looked like he enjoyed himself.
"We'll have a selection meeting before we decide [if and where he'll play].
"We have to review this and make sure we get it right."
Though not thrilled by his side's start to the game, Blackadder was delighted with the way his pack were able to disrupt the Highlander's lineout in the second half.
"It's an area Dave Hewett coaches and we work hard at," confirmed Blackadder.
"The hard work paid off. The guys committed to it and set piece pressure in this game is so vital.
"There were a couple of momentum shifts there where our guys turned those lineouts over. We got on the front foot and that's the difference in these matches."