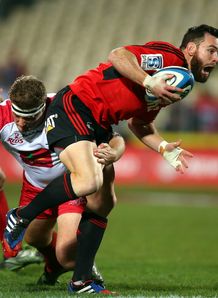 Related links
Teams
Ryan Crotty might be making a name for himself in the number 13 jersey worn by Robbie Fruean but he's eagerly anticipating his team-mate's return.
Crotty has shifted to outside centre of late in place of Freuan, with Freuan first struggling with a dip in form before it was revealed that 24-year-old would be undergoing surgery to repair a heart valve which had been impairing his performances.
Back at home after a successful surgery, Freuan would have been watching on as Crotty grabbed a brace in the Crusaders' 38-9 victory over the Reds on Saturday. One noticeable change in Crotty is the healthy beard he is sporting, a feature the centre reveals is in honour of Fruean.
"He (Fruean) said he's going to go 'Caveman' until he gets back out there," Crotty told Fairfax NZ. "I'm pretty tight with old Rob. I don't mind having this beard anyway so I will try to back him up as best as I can."
While they may be competing for the same position, Crotty is looking forward to having Fruean back in the mix next year.
"He's has got that infectious personality that just makes you smile. He's always cracking jokes, always smiling. It's tough not having him around - I can't wait until we have him back," said Crotty.
After their mauling of the Reds, the Crusaders now turn their attention to a semi-final clash with the Chiefs and Crotty knows there can be no drop of intensity.
"You try to keep the routines the same. You have to sweat off the field as much as you do on there," he explained.
"Play-offs are tight and we have to relish being under that pressure whereas, possibly in the past, we have come off second best. We have to give ourselves the best chance to play well."