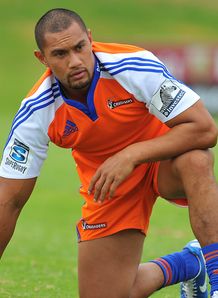 Related links
Teams
Crusaders centre Robbie Fruean is making a swift recovery after undergoing open-heart surgery earlier this month.
Fruean underwent a heart-valve replacement on July 3 and was discharged only three days later, with the outside centre now recuperating at home.
"At the moment he is still in recovery mode," said Crusaders doctor Deb Robinson to Fairfax Media.
"He needs to have some blood tests from time to time and really is just leading a quiet life around home at the moment.
"You can't ever hurry these things and it is a bit of a change of pace for him - from training full-time and being in this (rugby) environments. He was actually discharged after three days which was pretty amazing."
Robinson added that Fruean would be wary of all expert advice from his specialist in Christchurch following his second open-heart surgery, and would certainly not rush any aspect of his recovery.
"He knows what he wants and he knows he has to do it right to where he wants to go. Certainly there is no risk of doing something that he hasn't been advised about," added Robinson.
"Once he got home he was able to walk about, go up and down the stairs and out to the gate and things like that."