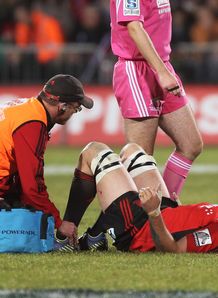 Related links
Teams
A call on the fitness of All Black lock Luke Romano will only be made closer to the Crusaders' Super Rugby play-off on Saturday.
Romano suffered an ankle injury ten days ago during his team's clash with the Chiefs when Tawera Kerr-Barlow made contact high on his ankle from the side.
The 27-year-old reveals that he at first did not think the injury was too serious but that it has proven worse than expected.
"It certainly hurt but I thought 'it will be right, it is just a little tweak' and I jumped up and the pain got worse and worse," he told Fairfax NZ News.
Romano continued playing until the half-time break when the full extent of the damage was revealed.
"It was blown up like a balloon and they made the decision there to pull me," he said.
After spending a week in a soft-cast to reduce the swelling, Romano was able to sprint in a straight line over the weekend, but the true test will come when he attempts to change direction.
"That will be the test that determines whether I am right this week," he admitted.
It's not the first time that Romano has been in doubt for a clash with the Reds, having nearly missed out on the 2011 final when he was diagnosed with chicken pox after the Crusaders' semi-final against the Stormers in Cape Town.
Despite having a delayed flight as he was forced to wait for medical clearance, Romano did take the field in Brisbane, although the 18-13 defeat is not an occasion he looks back on fondly.
"I came off for the last 15 to 20 minutes. That was a very disappointing occasion. I still remember that well. We were right in the game and just a couple of wee defensive lapses allowed Will Genia to score," he said.
"That was probably the losing of the game right there. But there is plenty of motivation without having to look back that far. If you lose (on Saturday night) you are out."
Experienced campaigner Tom Donnelly was the man to replace Romano for last weekend's game against the Hurricanes and could once again deputize should Romano miss out.