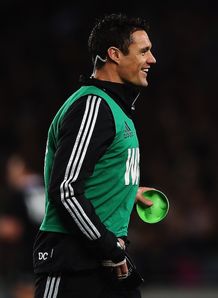 Related links
Teams
Crusaders fly-half Dan Carter is set to continue a new routine of throwing his kicking tees to fans in the crowd during matches.
Carter, who uses up to 12-15 tees per match, counted by Crusaders assistant coach Aaron Mauger, has been throwing the autographed tees into the crowd after kicks all season.
With the Crusaders hosting the Reds in Saturday's Super Rugby play-off, Carter admitted that he will continue the routine as a way of him showing his appreciation of the support given by the Christchurch faithful - although his accuracy with distributing them into the stands hasn't always been accurate.
"When I'm over on an end-of-year tour, I tend to throw a few tees after training to kids. So I came up with the idea that I should start throwing them into the crowd after each kick, and it's something that I've done this year," said Carter to 3 News.
"I have huge respect for people who make an effort to come to the games, so if there's something I can do by giving out a tee here and there, then I'm only too happy.
"I've talked to a few people who have managed to catch the odd kicking tee in the crowd and they seem to appreciate it.
"I did meet one guy after the game in the weekend and it teed him in the head.
"He was looking in the other direction and the next thing I know I threw the tee and it hit him square in the head. So I might have to be a bit more careful when I'm throwing the tees in to the crowd in the future."