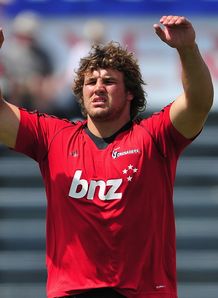 Related links
Teams
Crusaders hooker Ben Funnell has been suspended for one week after he was found guilty of foul play.
SANZAR duty judicial officer Nicholas Davidson accepted a guilty plea from Funnell,for contravening Law 10.4 (e) Dangerous Tackling after he was cited following a dangerous tackle during the Crusaders' win over the Bulls in Christchurch on Saturday.
Funnell, who came on as a replacement for Corey Flynn, has been suspended from all forms of the game for until March 23.
This means he will miss the Crusaders' clash with the Kings on Saturday.
The incident occurred in the 60th minute of the match which the Crusaders won 41-19.
In his finding, Davidson ruled the following: "The DJO considered the video footage and the citing report before hearing from the player and his counsel with coach and manager.
"A dangerous tackle was admitted.
"The incident was not treated as deliberate foul play but resulted from a poorly executed hold to the neck of the Bulls player (Grant Hattingh) which was held as the players went to ground and thus dangerous.
"The Bulls player suffered concussion and whiplash. He should be ready to play next week but that requires further assessment.
"The incident was closely considered for mid range entry level given the clear directives against tackles or holding around the neck or head.
"The absence of deliberate application of force to the neck was a factor against that.
"The prompt admission of breach and the young player's good record allowed for mitigation and the indication given the player was a one week suspension which he then accepted."