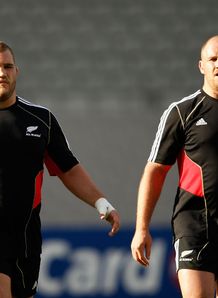 Related links
Teams
Hurricanes prop Ben Franks is unfazed by the fuss surrounding Friday's front row battle with his younger brother, Owen of the Crusaders, in Wellington.
"We've scrummed against each other loads," the 29-year-old told Fairfax Media.
"We've been each other's training partners for a long time so it's not a big deal for us to come up against each other."
"Me and Owen we've always done stuff together, so it feels natural. I haven't worried about going up against Owen in the brother sense.
"I do my homework, obviously, as I do every week on my opponent and Owen's obviously world-class."
His move to the Wellington-based franchise, to focus on playing loosehead prop, means the clash with his younger brother, who plays as a tighthead, is inevitable.
"I can understand how it is for people at home when you think about it, but from when you start playing rugby at an early age you are either playing with mates or coming up against mates," Ben said.
"When you've played since early childhood right through then competition is part of everyday life.
"I've been up against mates at training every day this week. It's part and parcel of being a professional rugby player."
The siblings have played together for in Canterbury, Crusaders and All Blacks teams but have gone head-to-head previously - an ITM Cup game in 2007 when Canterbury faced Tasman.
"I can't remember what year, but when I was playing for Tasman and Owen was in his first year for Canterbury we came up against each other, but it was just for 10 or 15 minutes," Ben said.
But despite relishing the prospect of having another crack at his sibling, the former Crusaders stalwart jokes about how their relationship will be after this weekend's match and expects no arguments, regardless of the result.
"I suppose from what I hear we get on a lot better than most," he said.
"It's pretty weird, but it doesn't seem like New Zealand has a lot of brotherly love out there.
"No, it'll be enjoyable. I've always heard stuff about what it's like to play against the Crusaders.
"At the end of the day it's still rugby and my goals this year, as much as I loved being a Crusader, are trying to achieve some stuff with the Hurricanes.
"We're trying to get our first win, so I'd love to do that this weekend."