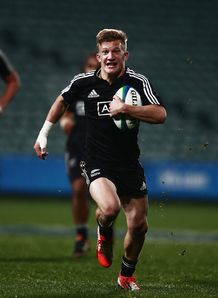 Related links
Teams
Standout New Zealand U20s player Damian McKenzie has signed with the Chiefs Super Rugby team for the next three years.
The 19-year-old is a versatile player who specializes playing at fly-half, but has proven to be just as comfortable at full-back.
McKenzie was recognized through the Chiefs talent identification programme and was involved in the Chiefs Development programme earlier this year.
He thrived in the Chiefs environment when he joined the Chiefs squad in the latter part of the 2014 season and believes it is where he will grow the most as a player, both on and off the field.
"While I was training with the Chiefs I learned so much and really enjoyed the coaching staff and the culture, so I am rapt to be given this opportunity. The boys are very welcoming and I know I will enjoy being part of the Chiefs family," said McKenzie.
"Damian is a quality young man who has made a huge impression over the past nine months," said Chiefs head coach Dave Rennie.
"He's brave, has an excellent skill set and an outstanding work ethic. We're rapt he's committed long-term."
McKenzie represented the New Zealand U20's in the 2014 IRB Junior World Cup held in New Zealand and has played for the Chiefs Development team this year.
He played for the New Zealand Secondary Schools in 2013 and the New Zealand Schools Barbarians in 2012, earning selection from Christ's College First XV in Christchurch.
McKenzie will make his ITM Cup debut for Waikato this season.