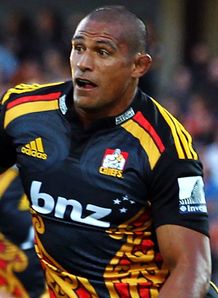 Related links
Teams
Chiefs flanker Tanerau Latimer admits that winning a third straight Super Rugby title from fifth place would be a 'dream'.
The back-to-back champions have struggled this season yet finished the 2014 regular season inside the Wildcard spots, sending them on a trip to play the Brumbies this weekend.
The Chiefs sealed the 2013 title thanks to their victory over their Australian hosts this weekend, with both sides losing ground in their respective conferences this year to the Crusaders and Waratahs.
Underlining that no one in the Chiefs squad was discussing the prospect of a hat-trick, Latimer conceded that winning a third straight title would surpass their previous titles in 2012 and 2013.
"We haven't really talked about it, but it would be a dream to win it from fifth place," Latimer told Newswire.
"Obviously no one has done it before. It would surpass the ones we've done in the past couple of seasons."
Highlighting the Chiefs' recent experience of knockout rugby, Latimer - who will leave the Chiefs at the end of the season to play for Japanese side Toshiba - believes that knowledge will count for everything.
"It's a team that knows we're coming to crunch time and we're rising to the occasion," added Latimer.
"Along with that, you could say we're probably a bit more mature and we've got our game going right.
"The way we look at it, we've got three weeks to go, but let's get this Saturday right."