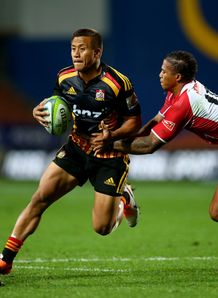 Related links
Teams
Whether used in midfield, on the wing or as he was successfully against the Lions at full-back, Tim Nanai-Williams is a happy Chief.
His free-reign abilities were on clear display as the champions thrashed the Lions 38-8 last weekend.
Nanai-Williams officially had 15 on his back but popped up at first receiver enough times to catch the Lions off-guard, using his quick feet to make space for others.
It was an accomplished performance in an unsteady season for the Chiefs so far. Plus, being able to rove around the field looking for gaps is something that Nanai-Williams finds 'pretty cool.'
"I moved around quite a bit but I'm just happy to play a part for the team in getting that W and if it means I have to play fullback, centre or wing, so be it," Nanai-Williams told Fairfax News.
"Renns [Chiefs head coach Dave Rennie] and the other coaching staff just give me permission to be that second full-back - that guy that just runs around sniffing opportunities.
"It's pretty cool to get told to do that, to run around. Not many players get to roam around and I'm happy that they've given me the licence just to run around, see what's in front and just play and call it.
"You're just trying to get inbetween the big boys, getting them to come in and if they do then I've got guys outside who can penetrate the hole but if it's there then I can go through it.
"I was just quite lucky tonight that I squeezed through for one."
With a much-needed win over the Lions now under their belt, the Chiefs' attention turns to Conference rivals the Blues.
"We just got back in touch with Chiefs rugby and we're happy with where we're at right now but we know we've got to stay humble and grounded," added Nanai-Williams.
"The Blues game is always a local derby for us. They're just up the road from us, although we're going to be playing them in Taranaki, and it's going to be awesome.
"They had a good win last night [Friday night] and we had a good win tonight [Saturday] so both teams are on a high and I guess we'll come back on Monday back to square one and start preparing for it.
"You know who you are playing against, how they play and you always want to see how you against those boys."