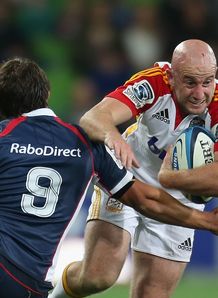 Related links
Teams
Former All Blacks scrum-half Brendon Leonard's move to Zebre from the Chiefs has been confirmed by the Parma-based outfit.
The 2012 and 2013 Super Rugby winner will arrive in Parma during this week and, after a medical check, will be available to start his training with Zebre on Tuesday 20 August when the whole roster will join together to start the second part of the club's pre-season after their recent tour of France.
Zebre director of rugby Roberto Manghi is delighted with Leonard's decision to join his club.
"As an experienced player he will help our attack and will help with our young scrum-halves' development," said Manghi.
"He's motivated to face this new challenge in his career and is the type of player who can make a difference.
"I've been in Waikato my whole life and, after seven years of Super Rugby, the time in my career has come to explore some new challenges in great european leagues like the PRO12 and Heineken Cup" said Leonard.
"Zebre have several internationals and I'm very focused into joining my new club and team-mates to be useful in the best possibile way.
"I'm sure I'll prove myself as I consider myself a better player than when I played for the All Blacks."