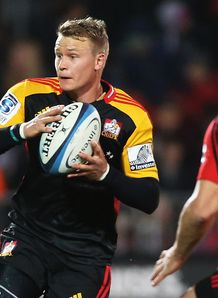 Related links
Teams
Chiefs utility back Robbie Robinson believes being in the knockout stages of the tournament brings out the best in his side.
They go into Saturday's semi-final against the Crusaders in Hamilton as underdogs after they finished the league stage of the competition with three below-par performances.
The Crusaders, meanwhile, have been in superb form and beat the Reds 38-9 in their play-off clash in Christchurch last weekend.
But Robinson, who will be amongst the replacements for the semi-final, is confident the defending champions will be back to their best this weekend.
"There's been a massive change in attitude," Robinson told Sportal.
"I think sometimes maybe we don't realise what you've got to do during the week to get up - it's not just going to happen for you on the weekend."
The Chiefs struggled to a 26-16 win over the Blues in Auckland in their final match of the season.
A week before that, they suffered a humiliating 43-15 loss to the Crusaders in Christchurch, after claiming a hard-fought 34-22 win over the Hurricanes in Hamilton the previous weekend.
Members of last year's victorious squad remember a similar experience when the Chiefs lost their last two matches of the season before winning the final against the Sharks in Hamilton.
"I think it's about experiencing that - you've got experience the losses to know what's gone wrong and what you'd do differently," added Robinson.
"What's good about this team and last year's team is that we learned from those losses.
"It's the same this time - we've learned and we know what we've got to do throughout the week as a team to get in the right frame of mind for the game."