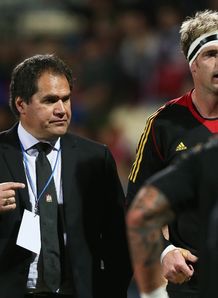 Related links
Teams
Also see
Chiefs boss Dave Rennie reveals he may look to have a stint overseas as he looks to put himself in contention for the All Black coaching berth.
Rennie is widely tipped to one day coach the national team after achieving great success with the Chiefs and the New Zealand U20 side.
However, while an All Black gig may be somewhere in his future, Rennie's next port of call may be a job outside of New Zealand.
The former Wellington boss believes that his gradual rise up the coaching ladder has aided his career but that he would like to add an overseas position to his résumé.
"I would say yes but it hasn't been a burning desire of mine for a lot of years," Rennie told the Sunday Star-Times of his All Blacks coaching ambitions.
"I stumbled into professional coaching. I do it because I enjoy it. I wasn't in a hurry to get involved in Super Rugby. I did it [as assistant coach of the Hurricanes] in 2002. It's been good for me.
"A lot of coaches are in a hurry. They fly into it and two years later they are gone. The timing was right to come to the Chiefs. I've signed for another couple of years. Four years may well be enough for a head coach to be in one spot.
"I've got aspirations to coach overseas at some stage. That could be the next move."
Success abroad would certainly aid Rennie's attempts to position himself for the All Black job, but that's not his primary reason for looking to leave New Zealand.
"It's probably the way it's worked but I don't think it's necessarily the way it should happen," he said.
"It's more for me the chance to experience another culture and base ourselves in Europe," he explained. "My wife has been dragged around a bit the last few years with my coaching. It would be nice for her to be able to do a bit of travel. The kids would be able to come and base themselves wherever we are.
"You can't plan too far ahead in our game. If things don't go so well, all of a sudden you can be tipped out and you're looking at a different option."