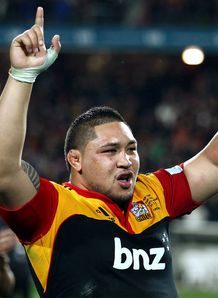 Related links
Teams
Chiefs prop Ben Tameifuna has been issued with an off-field yellow card for an act contrary to good sportsmanship against the Crusaders.
According to Law 10.4 (m), "a player must not do anything that is against the spirit of good sportsmanship in the playing enclosure - dangerous grabbing on an opponent without the ball."
Tameifuna put his hand over the face and eye area of Crusaders loosehead prop Wyatt Crockett whilst in a maul. The deliberate and sustained grappling head-lock action had potential to cause injury to Crockett's facial area and was an act contrary to good sportsmanship.
The incident occurred in the 15th minute of the at AMI Stadium in Christchurch on Friday.
The incident was not acted on by the referee for the match and on further review of the match footage the Citing Commissioner deemed an Off-Field Yellow Card was appropriate.