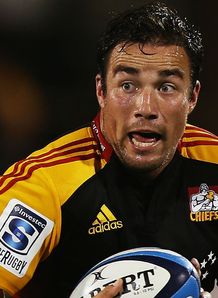 Related links
Teams
Richard Kahui has deemed the recent surgery on his shoulder a success, but admits his move to Japan is in doubt.
The centre went under the knife for the fifth time last week after he ripped his shoulder muscle from the bone during training with the Chiefs.
''The surgery went really well,'' Kahui told the Waikato Times. ''I had it on Wednesday and was out on Thursday and talking to the surgeon he was really positive and happy with the previous repairs that were done.
''The shoulder joint and the actual structure of the shoulder is all really good. It's just the bit of muscle at the front that was taken off to get in and repair it [last time] is the thing that has come away.
''When they reattached it it hasn't quite healed properly for whatever reason and it's just pulled away.''
The 27-year-old is due to join Japanese outfit Toshiba at the conclusion of the Super Rugby competition, but with a four to six month rehabilitation period ahead of him, he will miss the start of the Japanese season which gets underway in October.
An absence for the opening weeks has put the move in question, but Kahui insists that he is still eager to make the move.
"The ball's really in their court if they take me or not," he said.
''Hopefully it all works out. We're really excited about going there and if that doesn't work out we'll have to look at plan B and C.''