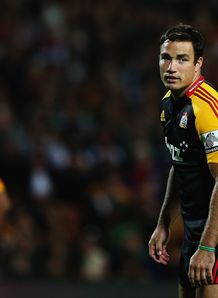 Related links
Teams
Richard Kahui's playing time in New Zealand has come to an end after it was revealed he requires shoulder surgery.
The 27-year-old, who will join Japanese outfit the Toshiba Brave Lupus later in the year, will go under the knife on Wednesday for what will be a fifth operation on his shoulder.
The All Black ripped his shoulder muscle from the bone during training last week and while the damage is not as bad as has been the case with previous injuries, he will take no further part in the Super Rugby season.
"He'd be no good for us this season," said Chiefs coach Dave Rennie.
"Structurally it's actually okay. There's no ligament damage in there it's more the muscle has come away and it has to be stitched back down so that takes a wee while to recover.
"It needs to stitched down and there will be a few months recovery," he added.