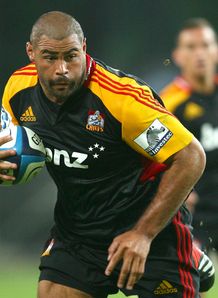 Related links
Teams
Chiefs prop Ben Afeaki is keen to make up for lost time after missing most of the Chiefs' title run, in 2012, due to injury.
Afeaki, who returned to action in the latter stages of last season, after recovering from a broken wrist, has been in fine form for the Hamilton-based franchise in 2013.
His current performances means he could come into the reckoning for an All Blacks spot, later this year, but that is not his main priority at the moment.
"I'm just stoked to be playing week in, week out," he told Fairfax Media.
I guess last year I missed most of the season, it's good to be back training and hopefully I can keep getting that [Chiefs] starting jersey."
The 25-year-old believes his fine start to the season is down to the hard work he put into his game during the off-season.
"We had a good pre-season and leading into the competition I worked on my scrumming and a lot of stuff around my game, especially my defense and ball skills with Straws [assistant coach, Andrew Strawbridge] and Smithy, [Wayne Smith]" he said.
"I'm pretty happy with the way it is going."
Competition for a starting berth at the Chiefs - especially in the front row - is tough and Afeaki believes it provides motivation for him to play well.
"The competition for a starting spot also keeps you on your toes, so you're always trying to perform at your best," he added.
Chiefs forwards coach Tom Coventry expects Afeaki to get a look-in at the All Blacks if he continues with his current form during the rest of the campaign.
"Ben has had a marvellous start to the year," Coventry said.
"He's injury-free, which for Ben is a big thing because he's had a few slow starts to seasons over the last few years.
"He's scrummaging really well, he's focused really hard on aspects of his scrummaging and made real improvements in that area.
"His ball carry has probably been quite an improvement this year because he's getting to get the ball in his hands a lot more than he use to last year.
"He's making some big gains and I'm sure he's putting his hand up for higher selection."