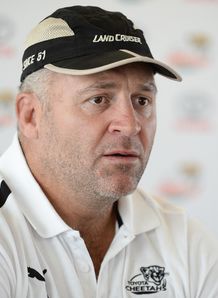 Related links
Teams
Also see
Cheetahs head coach Naka Drotské paid tribute to his players for what he described as their best performance this year as they beat the Stormers.
The home side won 35-22 in Bloemfontein on Saturday in a result that lifts them off the bottom of the standings, sending their visitors to the foot.
And it was of little surprise that after the game Drotské was pleased with the five-try win.
"I am really proud of the players. To score five tries against the Stormers - a side that has a very good defensive system - is a really good achievement," he said.
"At half time, we were in front and we kept that lead. In a few other games this year, we were in the lead at the break but let it slip in the second half. The first ten minutes in the second half we were too much in a defensive mode, but after that we came back and scored to great tries to close the game."
He said he felt his team were good in both defence and attack.
"That isn't something that has happened a lot of times this season. We came up short in both departments in earlier games.
"There are definitely positives going forward. There are still six games left so it is very important for us to end the competition on a high."