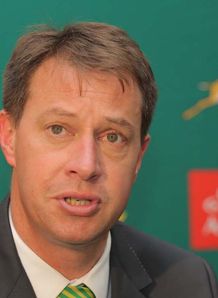 Related links
Teams
Also see
South Africa have been guaranteed a sixth Super Rugby franchise when the new broadcast deal will be implemented from 2016.
SANZAR are meeting in Sydney this week to discuss the next format for Super Rugby after the current broadcast deal expires at the end of the 2015 season.
South Africa have requested that they be allowed to play six Super Rugby teams as they want to include the Southern Kings on a permanent basis.
The Kings played in the 2013 Super Rugby tournament but that was at the expense of the Lions who have since regained their place in Super Rugby for 2014 through a series of promotion relegation matches.
South African Rugby Union chief executive Jurie Roux and his SANZAR counterpart Greg Peters both confirmed that agreement has been reached that a sixth franchise from the country will play in Super Rugby from 2016 onwards.
"We want to retain Super Rugby as the pre-eminent regional tournament in the southern hemisphere, and we want to keep it as one competition, and there are various options we are looking at to ensure that, but I can confirm that a sixth team from South Africa has been accepted," Peters told SuperSport.
Roux accepted that there would be logistical problems but he was also clearly relieved that the long battle for the inclusion of a sixth franchise has finally come to a successful conclusion.
"We have a sixth team in the competition, and that is a given," he said.
"All the models that are being discussed work around a sixth team from South Africa being included. Obviously there are that need to be sorted out and of course we want all our partners to be happy with the product, but at least the sixth team is guaranteed."
No commitment has been made for the inclusion of an Argentine side, something that the South American country is lobbying strongly for in order to help the Pumas become more competitive in Super Rugby.
Although no commitment has been given to include an Argentine side, Peters said that the inclusion of a team from Argentina "is logical, and if it is possible we would like to accommodate them".
Peters said there has also been a move from within New Zealand for a sixth franchise from that country to be added, while there has been a long-standing desire to bring an Asian side into the tournament.
Those issues will be sorted out later, however, once it comes time to settle on what model is going to be adopted.