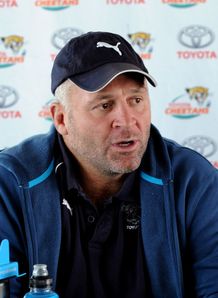 Related links
Teams
Also see
Cheetahs coach Naka Drotske says they know exactly what to expect from Jake White's Brumbies in Sunday's Super Rugby play-off in Canberra.
The Free Staters are preparing for an aerial assault and a huge battle in the set pieces similar to the style of play used by the winning Bulls and Springboks sides of the past.
"They (the Brumbies) play a game very similar to the Bulls," Drotske told Supersport.
"We have watched Jake White's teams for many years, from when he was Springbok coach to this area and they like to get into certain areas on the field and then use the set-pieces and their pack to dominate.
"Add to that a good boot and it shows how they use territory to their advantage. We need to make sure our discipline is good and that we don't give away penalties in the wrong areas of the field to make it easy for them.
"They are a lot more predictable than sides like the Reds or Blues and you know what to expect from them."
Earlier this week White said it was a false perception that the Cheetahs play an expansive game but Drotske wasn't ready to take the bait.
"Ja, we are conservative," laughed Drotske.
"However, we know when to attack and when to use the kicking game. We have also scored some great tries this year. To be honest I don't really bother with stuff like that in a week like this.
"We know how the Brumbies will play and we know how to prepare for their game plan."