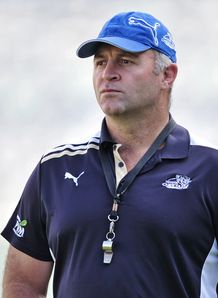 Related links
Teams
Despite being the underdogs for their play-off clash with the Brumbies, Cheetahs have not achieved their goals in the tournament yet.
That is the word from the Bloemfontein-based outfit's coach Naka Drotske ahead of Sunday's clash with the Brumbies in Canberra.
The Cheetahs have been the tournament's surprise package, by reaching the play-offs for the first time. But despite that achievement, Drotske believes his charges have the ability to cause a huge upset this weekend.
"I am positive about the future of Free State rugby," he told Supersport
"We have a bright future ahead of us, and I'm really focused that we have the right mindset.
"We haven't reached our goals yet in this competition - there are a lot of people congratulating us and saying 'Well done, this has been a great season.'
"This is the biggest challenge, to get the players to realise that we are not finished. But watching them it is exciting, to see they want to win, they are not done."
The Cheetahs are currently based in Sydney and will head out to Canberra by bus on Friday.
he explained, adding that the team need to be in the right frame of mind throughout their preparations in Sydney this week.
Although the Cheetahs ultimately prefer facing an Australian side in the play-offs instead of New Zealand one, Drotske expects a massive challenge and wants his players to be in the right frame of mind throughout this weeks preparations.
"The bottom line is that if you get to the top six, you are guaranteed a tough game," he added.
"There are only top sides left in the competition.
"The advantage of staying in South Africa is the fact that you don't have to travel, but still to play the Bulls at Loftus is also a tough task.
"We prepare on our own stuff and we work on what we can control the outcome of."