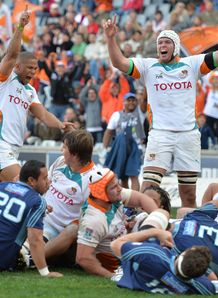 Related links
Teams
Cheetahs skipper Adriaan Strauss says that he knew from the start of the campaign that his side were in for a special season.
The men from Bloemfontein secured the first play-off berth in their history on Saturday when they beat the Blues 34-13 to ensure they finish in the top six of the Super Rugby season.
Prior to the start of the campaign, many had thought that the Cheetahs would be battling the Kings to avoid the wooden spoon in the South African Conference. Such perceptions would only have been enhanced when they lost their opening match at home to the Sharks and then embarked on a four-match overseas tour.
However, after a loss to the Chiefs, Naka Drotske's men won three on the trot away from home. Key victories over the Stormers, Sharks and Reds followed further down the line, with a triumph over the Blues sealing their success.
"I am very proud of my team, although we left a few tries out there," said Strauss. "We stuck to instructions this evening and each player focused on his task.
"No one gave us a chance of finishing among the top six teams when the season kicked off last February, but I always believed we could do it. We will take Sunday off and then start training for the knock-out stage."
The Cheetahs will enjoy a bye next week as they await to see who they will face for a spot in the semi-finals.