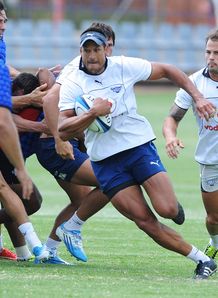 Related links
Teams
Bulls number eight Pierre Spies says he is planning to extend his career with a move overseas after the 2015 season.
The Springbok loose forward has had a nightmare run with injuries in recent years, with thumb and biceps surgeries forcing him to miss most of the 2014 Super Rugby season.
The experienced Test player is keen to make an impact on his comeback, but is also looking further down the road.
"After the 2015 season, I'll be looking to do stint in Europe or Japan," he told MyPlayers.co.za.
"I think I'd prefer Japan after speaking to some of my mates who have played there, like Fourie du Preez, Wynand Olivier and Jaque Fourie.
"They all love the Japanese culture and the strong work ethic the locals have over there. I'm also told that rugby is gaining plenty of popularity and respect in the Far East. I think that would be a great environment to be a part of looking ahead.
"If I play in Japan, there'll be the chance that I could play further roles for the Bulls during Super Rugby and the Springboks during the Test window."
For the moment though, the 29-year-old knows his comeback year won't lead to an easy return to the Springbok fold with tough competition among the loose forwards.
"My goals for the 2015 season is to help the Bulls win the Super Rugby title and to play my way back into the Springbok squad ahead of the World Cup. I believe South Africa has experience and talent to win," said Spies.
"The loose forward department is one area where South Africa never lacks quality.
"This will make things tougher, but it will also motivate me to work harder. If I can give my best on the field, I believe I will get there [make the Springbok squad]."